Our school is committed to providing high-quality pre-school education services to enable children to achieve a balanced development in six learning areas:"Physical Fitness and Health", "Language", "Early Childhood Mathematics", "Nature and Living", "Self and Society" and "Arts and Creativity".The life-based learning themes are close to children's daily experience, cognition and interests, providing children with a all-rounded and comprehensive learning experience, which is conducive to children's learning.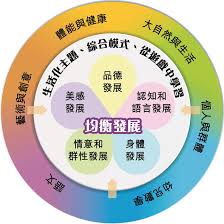 Picture Books Curriculum
Our school has adopted Picture book curriculum to enhance children's language proficiency. Picture book teaching develops children's oral language to written language from Reading aloud promotes their thinking, enriches their vocabulary and develops their knowledge of diversified activities through the content of stories. Children can also learn different generic skills and improve language expression and understanding. This can help develop their overall English level by improving their oral as well as written skills.
Biliteracy (Chinese and English) and Trilingualism ( fluent Cantonese, Putonghua and English)
The objective of our school is to lay the foundation for children to learn Chinese, English, and Mandarin. In addition to arranging Native English-speaking foreign teachers to conduct English activities, we also arrange Mandarin-speaking teachers to conduct Mandarin activities, Learning in an all-English and all-Mandarin environment, and cultivates children's in biliteracy and trilingualism. We also have a range of different activities such as physical activities, music activities, story reading, etc.,that aid children's language skills in listening, speaking, reading and writing.
Environmental Educantion
Our kindergarten also promotes environmental educate by cultivation children's love for the environment. We encourage children to cherish the earth's environment and its resources. Teacher carry our-environmental protection educate through different activity and realistic methods such as planting seeds and recycling.
Moral Education Program
Children are aim to seedlings and it is important to prone them with a school environment that is conducive to healthy growth and morality. It is important to instill positive values and teach the concept of right and wrong from an early age. Our kindergarten hopes to cultivate children's good moral habits through planned visits from professionals such as fireman and daily classroom activities such as stories, games, discussions, etc. Children are encouraged to share their views with others and engage in exchange of ideas about morality.
error:
Content is protected !!